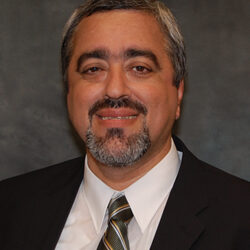 Founding Director
Principal Investigator
PEng., FAAAS, FASME, FCAE, FCSME, FEIC, FPWC, AFAIAA
Professor
NSERC Chair in "Multidisciplinary Engineering Design"
Director, U of T - Institute for Multidisciplinary Design and Innovation (IMDI)
Biosketch 
Professor Kamran Behdinan earned his PhD in Mechanical Engineering from the University of Victoria in British Columbia in 1996, and has considerable experience in both academic and industrial settings. Dr. Behdinan was appointed to the academic staff of Ryerson University in 1998, tenured and promoted to the level of associate professor in 2002 and subsequently to the level of Professor in 2007 and served as the director of the aerospace engineering program (2002-03), and the founding Chair of the newly established Department of Aerospace Engineering (2007-03 and 2007-11). He has joined the Department of Mechanical & Industrial Engineering, University of Toronto, in the rank of Full Professor in September 2011. He is the NSERC Chair in Multidisciplinary Engineering Design, sponsored by NSERC, University of Toronto, and thirteen companies including Bomabardier, Pratt & Whitney Canada, Goodrich, Magna, Ford, and DRDC Toronto. He is the founding director of the Institute for Multidisciplinary Design & Innovation (UT-IMDI) an industry centred project-based learning institute in partnership with major aerospace and automotive companies.
Professor Behdinan is the past President of the Canadian Society of Mechanical Engineering (2010-2012), and served as a member of the technical and scholarship committees of the High Performance Computing Virtual Laboratory. He is the founding director and principal investigator at Advanced Research Laboratory for Multifunctional Lightweight Structures, funded by the Canadian Foundation for Innovation (CFI) and Ontario Research Fund.
His research interests include design and development of light-weight structures for aerospace, automotive, and nuclear applications, multidisciplinary design optimization of aerospace and automotive systems, multi-scale simulation of nano-structured materials and composites at elevated temperature. He has supervised 17 PhDs, 60 Masters, and 9 postdoctoral fellows. He has also published more than 90 peer-reviewed journal papers and 140 conference papers, and 6 book chapters. He has been the recipient of many prestigious awards and recognitions such as the Research fellow of Pratt & Whitney Canada, fellow of the CSME, and the Ryerson FEAS research awards in 2004 and 2010.